Standing Rock activists eye pipeline finances to cement Dakota Access win
Operator has suggested that shippers had a right to terminate their contracts with the project if the pipeline was not operating by a 1 January deadline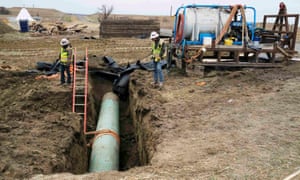 Indigenous activists are focussing on the Dakota Access pipeline's finances before Donald Trump takes office in an effort to further strain the oil corporation and cause continuing delays that they hope could be disastrous for the project.
After the Obama administration denied the company a key permit to finish construction, Native American activists warned that the win was only temporaryand that Trump, an investor in the pipeline corporation, would seek to quickly advance the project next year.
The firm wrote in a filing this year that the pipeline "committed to complete, test and have DAPL in service" by the start of 2017. And if the company did not meet its contract deadline, then its shipping partners had a "right to terminate their commitments".
In asking a judge to speedily green-light the $3.8bn project, vice-president Joey Mahmoud claimed that the loss of shippers could "effectively result in project cancellation", leading advocates and analysts to declare that a missed January deadline could be financially disastrous for ETP and a huge feat for Standing Rock.
But in emails to the Guardian, DAPL spokeswoman Vicki Granado claimed that January was just an "initial target" and not a "contractual date", which is "much later", though she refused to say when.
Her statement, which contradicts the company's official court testimony on multiple occasions, has prompted accusations that the corporation has either committed perjury or is lying to reporters. (Granado claimed that the court filing didn't explicitly say that 1 January was a contract deadline even though the language strongly suggested it was.)
Shippers contacted by the Guardian either did not respond to inquiries or declined to comment on the terms of their contracts with Energy Transfer.
"If DAPL is not available as scheduled, we will continue to use our current transportation methods," said John Roper, spokesman for Hess Corporation, one of the shippers. A representative of Phillips 66 said it remained a "committed shipper on these pipelines systems" but did not elaborate.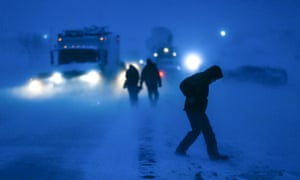 Regardless of the significance of the January date, opponents of the project argued that the continuing suspension of the project is already having a big impact on the ETP's bottom line.
"A couple of months delay for a project like this is significant," said Cathy Kunkel, energy analyst for the Institute for Energy Economics and Financial Analysis (Ieefa) and co-author of a recent report that scrutinized DAPL's funding.
The corporation claimed in court that each month of delay cost the company $4.5m and that a failure to launch on time would lead to losses of $913m in 2017.
While some activists have continued to camp near the construction site in very harsh winter conditions, others have been organizing successful "defund DAPL" campaigns.
"There's been increasing concern by the entities that are financing this enterprise, some of which actually care about indigenous people and some of whom care about how they appear to care about indigenous people," said Jan Hasselman, attorney for the tribe.
In November, the largest bank in Norway, DNB, announced that it had sold its assets in DAPL, while Odin Fund Management, a major Norwegian fund manager, sold $23.8m worth of shares invested in the companies behind the pipeline. Earlier this month, the Swedish bank Nordea said it would not back the pipeline if the corporation violated the demands of the Standing Rock tribe.
Tim Donaghy, senior research specialist with Greenpeace, which has petitioned banks to abandon DAPL, noted that reports of extreme police violence against Native Americans have further fuelled the divestment efforts. "No bank wants to be associated with a project that's violating human rights."
The financial challenges for Energy Transfer come at a time when the company is already in a precarious economic situation due to broader industry trends, analysts said.
Global oil prices began to collapse in 2014 after shippers committed to DAPL, and production in the Bakken Shale oil field has fallen, which has created major hardships for drillers, according to the recent Ieefa report.
That means the existing pipeline infrastructure may be adequate to handle regional oil production, and that if the contract deadline does expire, shippers could be eager to pull out or renegotiate favorable terms.
"They've locked themselves into a long-term commitment in the midst of a steep and what appears now to be a sustained decline in oil production from the region," said Clark Williams-Derry, director of energy finance at the Sightline Institute, who has analyzed the pipeline's finances and who co-authored the report. "If I were a shipper, I would be very concerned."
Dallas Goldtooth, organizer with the Indigenous Environmental Network, who has been a leader on the ground at Standing Rock, said a permanent cancellation of the project could have long-term implications for the industry.
"They are trying to ram these projects into the ground as quickly as possible with no concern about the risk," he said, adding: "I hope this sucker sinks Energy Transfer."
LaDonna Brave Bull Allard, a Standing Rock tribe member who owns land where one of the main camps remains in place, said the DAPL corporation was "panicking" about its finances and misleading the public.
The company should not be trusted, she said, noting that the construction site was being monitored to ensure that DAPL workers do not start drilling under the Missouri river, which provides the tribe's water supply.
"We are preparing because we know we have a fight on our hands. We will be standing our ground no matter what."
While we were celebrating the dropping of the ball in Times Square on New Year's Eve and ringing in 2017, the protesters were still at Standing Rock. The ones that were home by that time were trying to get their lives and homes organized once again. They had walked away from their lives, jobs, classes, homes, and social obligations to go to Standing Rock;  to take a stand for their beliefs and against big business and the federal government. This is very admirable for people we have spent years trying to ignore because of the crimes we had committed against them.
Would you have the strength to keep fighting after centuries of oppression and genocide?
Do you have the strength to put aside your privilege and stand by them?  Reblog this and keep posting other supportive blogs and articles — help them get the word out.