Traditionally women have been seen as and forced to be second class citizens. All throughout written history, they have been expected to obey their husbands, accept any and all violence. They have been supposed to tolerate adultery. They have been made to feed their families with little or no help from their man. Marriage was a business arrangement to solidify relations between countries, as a mediation between warring clans or families. Marriage also used to require a bride price. Marry my daughter and I will give you 10 horses, 12 goats, and 6 bracelets of silver. We like to think times have changed but women continue to cook, clean, have babies and never speak about anything important.
Violence is happening around the world to men, women and children, but the women and children carry the brunt of the scars of the violence. Women may not look strong, but millions are strong. This is the story of such women and what they chose to do when violence drove them from their villages.
To the bravery and strength of every woman who surmounts her poverty, illiteracy, and homelessness and carves out for herself and her children a better life: I say you are heroines. Be proud of yourselves and children be proud of your Moms. Their strength keeps you all alive. Their bravery has shown the people of Colombia that women and children do matter. It shows that violence does not always win.
Displaced by violence, Colombian women build their own city
LIGA DE MUJERES DESPLAZADAS.
Some 6 million Colombians, more than half of them women, have been forced out of their homes due to a decades-long conflict between leftist guerrilla groups and parliamentary forces.  On a plot of land outside the municipality of Turbaco, a group of displaced women have convened to build themselves a new home. They call themselves "The League of Displaced Women," and their village the "City of Women."
According to a feature in The Guardian, the idea for a female-fronted village was first conceived by displaced women living in El Pozón, an impoverished neighborhood of Cartagena. "We realized we had so many things in common that were affecting us," said Yajaira Mejía, whose husband was murdered in 2001. "We were in a critically vulnerable state." With the help of Patricia Guerrero, a lawyer from Bogotá, the women lobbied government agencies and eventually were granted enough money to buy land on the outskirts of Turbaco. The League of Displaced Women trained in construction, and began building houses. There are now 102 homes in the City of Women.
The League's path to independence has not been easy. Because they were labeled as leftist guerillas, they have been susceptible to violence by right wing forces. Unidentified men once set fire to the City of Women's communal hall, and the daughter of a founding League member was murdered. The partner of another League member was killed and dismembered.
But the women have not been deterred from their mission to empower female victims of internecine violence. The League has submitted a complaint with the Inter-American Commission of Human Rights, claiming that the Colombian government failed to protect them from gender-based violence. And Patricia Guerrero, who is now the director of the League, has been pressing the government to expand the City of Women. "We built 100 houses," she told The Guardian. "The government should build 100 more for other members of the organization."

Colombia's City of Women: a haven from violence
Women who had lost everything to conflict came together in their struggle for survival, learning the skills to build a neighbourhood of 102 homes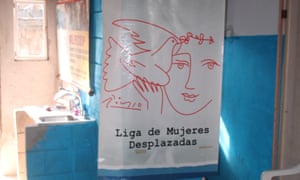 Wednesday 20 April 2016 06.01 EDT
As with most Colombian cities, the roads of the busy northern town of Turbaco are laid out in a grid of numbered streets and avenues. But in one particular neighbourhood the main thoroughfare has a special name: Street of the Women Warriors.
The designation is a fitting tribute to the indomitable spirit of the women – all victims of Colombia's decades-long internal conflict – who came together, organised themselves and built the neighbourhood of 102 homes with their own hands.
The community, known as the City of Women, has been an experiment in empowering women who had lost everything to the country's rampant violence. It could prove a model for the future as Colombia prepares to sign a peace deal with leftist rebels of the Revolutionary Armed Forces of Colombia (Farc), who have been fighting the state for more than 50 years.
The idea for the City of Women was born in El Pozón, a poor, crowded and impoverished neighbourhood of Cartagena, far from the stunning colonial architecture that draws tourists from around the world. The city's marginal neighbourhoods instead attract hundreds of thousands of people forcibly displaced from other areas of the country.
Nationally, more than 6 million Colombians have been forced from their homes since 1985, when records began. More than half of those displaced are women, many of whom were widowed by the war and face raising their children alone.
Yajaira Mejía, 45, was forced from her home twice. First, in 1998, she and her family fled the town of Plato, Magdalena, for Valledupar when one of her brothers-in-law was killed and another disappeared. Then, in 2001, her husband – who sold fruit and vegetables on Valledupar's streets – was shot dead.
By the time Mejía arrived in El Pozón with her two small children, joining thousands of other displaced people, women there had already started organising. They would meet in the yards of their homes, precariously built from plastic tarp.
They were victims of the warring factions, including leftist guerrilla groups, rightwing paramilitary armies and even government forces. But what brought them together was their new struggle to survive.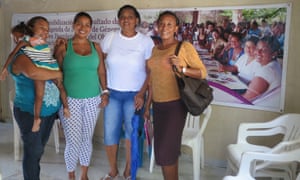 "We realised we had so many things in common that were affecting us," says Mejía. "We were in a critically vulnerable state."
Patricia Guerrero, a lawyer from the Colombian capital Bogotá, encouraged and guided them. They called themselves the League of Displaced Women.
"She told us about our rights and helped us identify our needs," says Mejía, noting that most of the women were unaware that as victims of the conflict they were entitled to aid and support from the government.
"Patricia made us realise that we needed to demand our rights, not ask for handouts," she says.
They were labelled leftist guerrillas, which put them at risk of retaliation by rightwing paramilitary militias that had a strong and growing presence in the area. When one member of the group was raped, the league took it as a warning for all of them.
Still, they continued meeting, organising, planning.
One of the most pressing needs for the women was safe and stable housing for them and their families. After years of lobbying and knocking on the doors of aid agencies and government offices, they secured enough money through grants and subsidies to buy land on the outskirts of Turbaco.
The women trained in construction, and set out to build their own homes.
"We wanted to do it ourselves, to make these houses really ours," says Deyanira Reyes, 48, another member of the league who lives in the City of Women.
In the darkest days of her displacement, when she lived in a squatter village, Reyes had a recurrent dream of walking up to a house and opening the door with a key. "It wasn't a mansion, but it was my home," she says.
Her dream became reality in 2006 when the league completed the 102 houses comprising the City of Women, each 78 sq m with a combined living/dining room, a kitchen, two bedrooms, a small backyard and a front porch.
Things didn't always go smoothly, Mejía and Reyes recall. In 2004, the partner of one woman disappeared. He was a security guard at the breezeblock factory run by the league.
When his dismembered body was found several days later, construction work was halted and several women decided to pull out from the project.
"We panicked," says Mejía. "We were afraid to go out on to the streets."
But the man's widow begged the women to continue. "She gave us the strength to carry on," says Reyes.
In 2006, unidentified men set fire to the thatched roof of the communal hall where the women held their meetings. They rebuilt it.
And in 2011 the adult daughter of one of the founding women of the league, who was living in the city, was murdered.
"We make some people angry with our persistence," says Mejía.
Guerrero, the director of the league, says she is now pressing the government to build more homes. "We built 100 houses – the government should build 100 more for other members of the organisation," she says.
But the league is not just about building homes. It is also about creating female leaders.
Throughout the process of discovering and demanding their rights, the women have become more confident. "When we started off, these women couldn't look a mayor in the eye. Now they're not afraid of anything," she says.
Guerrero is turning her attention to demanding justice and reparations for the crimes committed against the women and against the league as an organisation.
Not one of the 144 individual cases of crimes against the women, which include murder, rape and forced disappearances, has been resolved. No one has been held to account.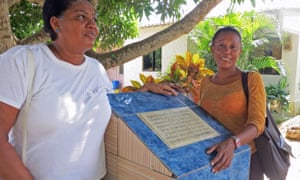 The same is true for the crimes against the organisation.
The Inter-American Commission on Human Rights is studying the admissibility of a complaint the league brought against the Colombian government for a failure to provide access to justice and prevent gender-based violence.
This comes as the government is preparing itself for a post-conflict scenario if a final peace deal is signed with the Farc, which could happen soon.
A study of the league's experience by the University of Los Andes in Bogotá recommended that the group's work be studied and replicated by other organisations.
"In particular we would like to underscore the surprising combination of concrete projects to relieve poverty with strategies of long and short-term legal challenges and lobbying efforts on both a national and international level," the study's authors wrote.
As a successful organisation, the League of Displaced Women is preparing the next generation to continue to fight for women's rights.
"Boys and girls who are growing up in the City of Women suckled the breasts of women becoming aware of their rights, demanding them. They have grown up with it," says Guerrero.
"And they will continue our fight."
Let us all help them continue the fight, the work, the sacrifices. Let us lift up our voices and declare that all violence must stop in this world. Let us support all of their brave efforts.
Namaste,
Barbara